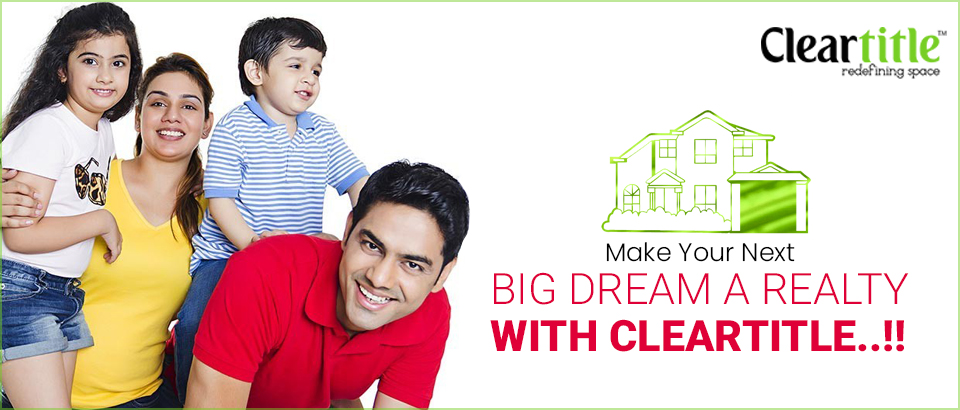 To define a 'dream home' will be different for different people. For some it may be a place where they are surrounded with the freshness of greenery or for some it may be a place where they could spend time in a calm mood of meditation. Whatever it may be you consult the Top Builders in Bangalore for making your fantasy a reality.
Your home reflects your personal tastes and your relationships get stronger with love at your home. A home is more than a space that binds you and your family together under any circumstances. That is why it is important to select a right builder who can understand your dream and make it happen. Cleartitle being one of the best Villa Construction Companies in Bangalore helps you in achieving your goal of a dream home with right planning and execution.
Follow the below simple 5 rules to live in a house of your dreams:
1. Determine your finance
Go behind a house which does not empty your pocket. An affordable house can contribute to better future saving for you and your family. Talk to your builder about financing. They can help you in getting home loans from banks they are in tie up with. As far as Cleartitle Properties are concerned we could understand your financial situation better and can assist you with proper ways to meet your financial needs. There a lot of finance options available for the qualified buyers for Home buying process. Plan ahead and determine the right price range of things before going for a house. A home that suits your current financial situation will give you more peace than going after luxurious properties that may put you in future credit crisis.
2. Location is important
To research on the location where you are going to buy your home is a must. It must meet your needs and must be close to your job location so as to save money and time. All attractions and entertainment along with facilities like hospitals, grocery stores, shopping malls, railway station and bus stand must be near to the location. The location of your dream home will have a large influence on the quality of your life. Whether you prefer a rural, urban, or suburban area, the value of the property depends on these. If your children's school is near the better.
Choosing a right neighborhood is also a challenging task. You must consider about the healthy environment that you should provide for the growth of your family when going for a house hunt. Make sure that you meet your present needs as well as future needs while choosing a location. A place where public transit or highways are near is a good choice. Amenities like parks, recreational facilities, and doctor and dentist offices will be an advantage. Your final offer price for the house you select must depend on these factors. A home that fulfils all your lifestyle properly is the right one for you.
3. New or Used
You can either choose an old used house or a fresh new one as your space. Many people go for used or resale homes. This is because these homes may have an established neighborhood and may be near urban city. Used homes but can come up with infestation, roofing, foundation and mold problems. Even though renovations can be done like installing new colors and features and tearing out old flooring, changing or painting cabinets and countertops, an old house can cost you more money and effort.
Top Builders in Bangalore offer new homes with structural stability, energy efficiency and safety to our customers. No compromise is done in modern design and layouts and is gifted to the clients with no wear and tear or hidden damage.
4. Design your dream
Cleartitle Properties being the Top Builders in Bangalore, build your new home carefully with quality design and features. Everything in your house is personalized to match your desires including colors and features. Our team of design professionals will cater to your needs and will design a home of your style, needs and budget. You can plan the colors, features, layout and décor for your new home. Value of your house increases in the future when you implement upgraded options. Each step is taken with utmost care by our team and we make sure that we handover a home of your dreams.
5. Find your Home
Many Villa Construction Companies in Bangalore build customized homes according to the client's needs. If you choose for a wide and open living area or a luxurious master bedroom we at Cleartitle properties can make it happen. We always will help you in finding the right home that you have been dreaming of. That final day when all documents and cheques are exchanged your new home will bear your name and you can happily move in with your family.
Cleartitle properties build durable homes of futuristic design that uphold quality assurance. Our committed service makes us one of the best Villa Construction Companies in Bangalore. Contact us for more details.