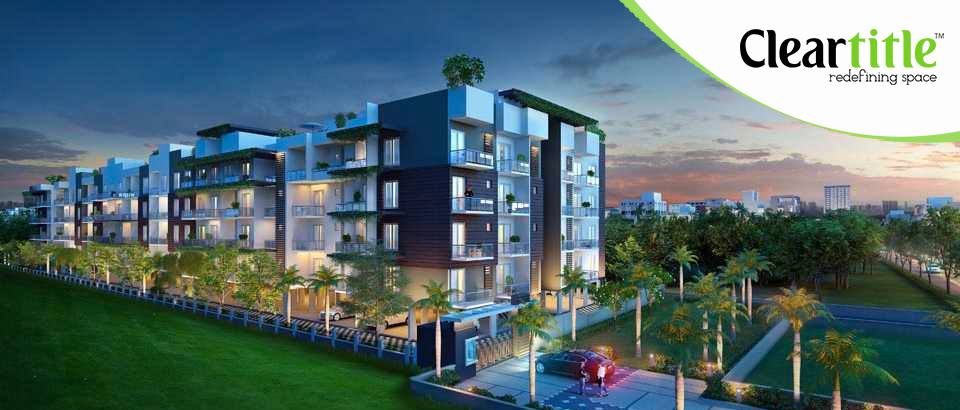 How has the Sarjapur area in Bangalore transformed into an attractive real estate destination?
Sarjapur, a small town in southeast Bangalore has grown steadily ever since the IT giant, Wipro set up its corporate campus here in 1990.

The easy availability of large areas of land here at reasonable prices attracted many IT and ITes companies to set up their corporate offices here. Prominent among them include Cisco, HP, Accenture, and Capgemini. Major multinational corporations including Nokia, KPMG, and Genpact also set up offices here.

Cleartitle Properties, Bangalore, is developing attractive and affordable housing and investment options in carefully selected locations at Bangalore. For details regarding our real estate projects including Flats in Bellandur, please call us now. We are here to answer any questions regarding your real estate investment options in India's Silicon Valley.

The coming up of the Outer Ring Road increased connectivity between Sarjapur and other important areas of Bangalore such as Electronic City, Whitefield, Koramangala ,and Marathahalli.

Developers in Bangalore began different scales of residential projects here.
For apartments in Sarjapur Road, that suit your budget and style, please call us at Cleartitle today. We also offer attractive land plots to build the house of your choice. Call us today for details.
How has Sarjapur evolved as a real estate market?
Sarjapur offers a variety of residential projects suited to all kinds of budgets. These include houses, apartments ,and villas with every amenity that you could hope for such as 24×7 power backup, CCTV surveillance, swimming pool, gymnasium, children's play area, and clubhouse.

This area received a development boost with the widening of roads, new flyovers, planned Metro rail extension and the Outer Ring Road. The construction of the Peripheral Ring Road [PRR] connected Tumkur Road to Hosur Road via KR Puram, Bellary Road & Sarjapur Road.

Your real estate agents in Bangalore are developing a number of properties with high appreciation potential in niche areas of Bangalore. For affordable villa plots in selected areas of the city, please call us today. We will be happy to answer your queries
How does Sarjapur assure me of a high return on my investment?
Sarjapur is an employment and educational hub.

It offers an active social life and retains the natural greenery of the outskirts.

The area has good public transport.

Infrastructure is developing fast with improved facilities for road, water, and electricity.

Years of experience in the real estate market of Bangalore gives us valuable insights into buying your first or second home. For Flats in Bellandur and other growing areas of Bangalore at reasonable prices, please call Cleartitle Properties today.

The growth of Sarjapur is consistent and promises a healthy trend in the future.

Unlike other property hotspots in the city, Sarjapur Road is yet to reach saturation.
Realty experts are developing high-end properties- both residential and commercial- in this area in anticipation of its appreciation potential. Flats in Bellandur and other growing areas of Bangalore are now available in prime locations of Bangalore. Cleartitle Properties offers villa plots, villas ,and apartments at fair prices with all modern amenities. Please visit our website and call us to know more about our successfully completed and ongoing projects.
Please refer the link below to understand the potential of Sarjapur as a promising property investment decision: https://www.squareyards.com/blog/sarjapur-road-is-a-prominent-realty-hub-in-bangalore
Cleartitle Properties, your real estate agents in Bangalore offer reasonably priced villa plots where you can build the villa of your dreams according to your taste. We provide consultancy in all areas of real estate. For details associated to our completed and ongoing projects, please call us now. We look forward to hearing from you.